Raisthorpe Manor's Floral Trio
Sweet Violet Gin, Rose Gin and Elderflower Gin are this summer's trend setters!
SWEET VIOLET GIN LIQUEUR

So popular this year. A drink to excite the taste buds with a wonderful hit of Parma Violets and a stunning colour.
Alc. 20% VOL | From just £3.50
ROSE GIN

Rose Gin is renowned for its soft pink hue and delicate perfume. Raisthorpe Manor's Rose Gin delivers both.
Alc. 37.5% VOL | From £14.00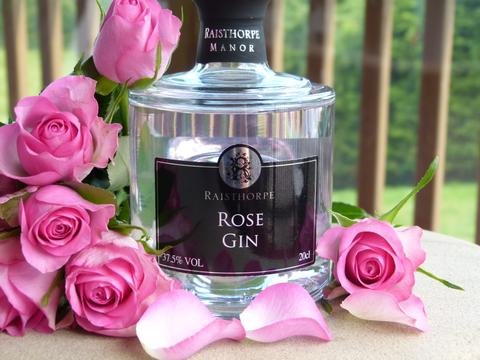 ELDERFLOWER GIN
Why not benefit from the Elderflower's reputed medicinal properties whilst enjoying the delicate taste of Elderflower Gin.
Alc. 30% VOL | From just £3.50
Raisthorpe Manor's Fruity Flavours
Rhubarb Gin's proving to be the gin of choice this summer too.
RHUBARB GIN
Raisthorpe's Rhubarb Gin has a wonderful rhubarb aroma with a delicate rose colour. Best served with ginger beer or elderflower tonic or for a spot of indulgence, add to a favourite Prosecco or Champagne.
Alc. 24% VOL | From just £3.50
TIPSY DRINK CARDS
A card and present in one.
Choose from 18 card designs with a 5cl tipple from Raisthorpe Manor to make a lovely gift for an appreciator of gin, vodka, port or whisky.